Lupe will have a few of her works exhibited at MORNING NOON and NIGHT: Students of Robert Cenedella Class Show These and other paintings will be on view at the Phyllis Harriman Gallery on the second floor of The Art Students League of New York from May 5 through May 10, 2008. Gallery hours are 9:00AM to 8:30PM Monday through Friday, 9:00AM to 3:00PM Saturday.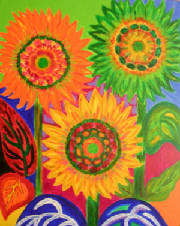 Lupe's painting "Colorful Sunflowers" will be on display in at the NYCoo Gallery, 20 West 22nd Street #1008 New York, NY 10010. The opening reception will be on December 7 and it will be on display until December 21.

The artist had her works exhibited at the Arts Fest of Stamford. This exhibit, held on April 1st, 2007, was sponsored by the Stamford Board of Education.
Lupe demonstrated her musical talents on January 9, 2006 and January 14, 2007 when she performed as an accordionist during the annual opening of the Iati Theater in New York City.
Lupe García had her works exhibited during the Stamford (CT) Arts Festival on March 19th, 2006.